IKM Marine Calibrators and Test Case (Marine Kit)
The IKM Marine Calibrators and Test Case offers a complete set of tools for maintaining your control instrumentation. If you are not sure what the problem is, the Marine Kit offers you the best help in troubleshooting and calibration.
The test equipment meets the necessary requirements of SOLAS (Safety Of Life At Sea).  
The IKM Marine Calibrators and Test Case offers an easy to use system, while being flexible so that it can be adjusted to fit the needs on your specific vessel. The standard test case meets most applications on board merchant and Naval vessels as well as for Mobile Offshore Drilling units. 
Contact our expert for more information about utilization, implementation and price.
The Marine Kit and Test Case are helpful for a broad range of purposes and provide an all-in-one solution: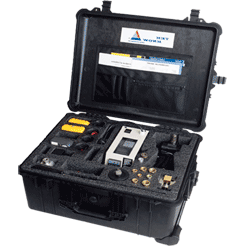 All-in-one
Main and Auxiliary Engines
Propulsion
Main and Auxiliary Boilers
Hydraulic Plant
Sea Water Cooling
Refrigeration Plant
Fresh Water System
Heads and Bathrooms
Ballast and Bilge Pumps
Cargo Holds
The test case 
The test case contains the following products, which come in a handy, rugged case:
A multifunctional calibrator is an easy-to-use and very versatile field calibrator. The source functions and measurements are applicable for testing and calibrating all electrical signals on board. Model: Fluke 725 Multifunction Calibrator. 
The Safety Multimeter ensures easy, precise and reliable measurements for problem identification. It incorporates and sets safety standards in the test equipment.   
Temperature Calibrator: Allows you to test all temperature sensors and transmitters on board the ship from a single tool and ensures that your quality assurance systems are implemented and related to regulatory and environmental requirements. This portable calibrator device can calibrate temperatures up to 600 °C.
Digital Pressure Calibrator: A compact and easily operated tool that ranges from vacuum to high pressure. It allows test personnel to comply with the necessary requirements.   
Test Instruments: Depending on your need a variety of test instruments can be supplied. E.g. IR thermometer, insulation tester, AC current clamp, tachometer are amongst those frequently used. Other needs can however be met, just contact our specialist. 
4 in 1 hand pump: Generates vacuum, gas and hydraulic pressure from a few mbar up to 700 bar. Its multi functionality thus replaces four conventional hand pumps. 
Certification: All the different calibrators and test instruments are delivered with traceable certificates.  
If you are interested in more detailed technical information about the Marine Kit go to the Marine Kit Brochure or contact our specialist.
 
To read more about other types go to Calibration Solutions and Services for the Offshore and Marine industry. 
Contact our expert
Documents