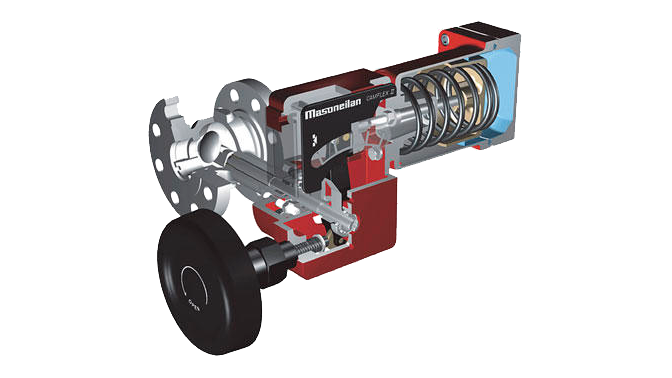 Masoneilan - Control valve 350002 Camflex
The CamFlex II control valve from Masoneilan, consists of valve, actuator and positions, built together in a compact unit
The design of the plug means that it does not have contact with the seat before it is in position for full closing. An axle rotation forces the plug all the way down to the seat and ensure a tight closure
Fewer rubs - greatly reduced friction and wear
Improved operating time - Increased maintenance cycles
Reduction of downtime and production loss
Longer valve life
The extended arm of the actuator allows:
Reduce actuator size
Get a faster response
Improve control
Unique control reliability using GE Masoneilan digital positions SVI II AP (HART) or FVP (Foundation Fieldbus)
If the need for changing the CV arises, it will usually only be necessary to simply replace the seat ring on the valve. There is also the possibility of a noise-reducing trim which is easy to retrofit
Size: 1 "to 16" (DN 25 to DN 400)
CV: 0.5 to 3650
Connection:
Flange design: ANSI 150 to 600
Flangeless: ANSI 150 to 600 UNI-DIN 10 to 100
Thread: NPT 1 "to 2"
Options:
Cryogenic performance down to -320 ° C
Ceramic trim for abrasive media
Steam jacket for maintaining min. flow temperature
Alloy material for corrosive media
High temperature performance above 400 ° C
Softening performance
Noise-canceling trim
Flashing trim
Material valve body:
Steel, stainless steel etc.
Key Features
Improved operating time
Longer valve life
Reduction of downtime and production loss
Contact our expert